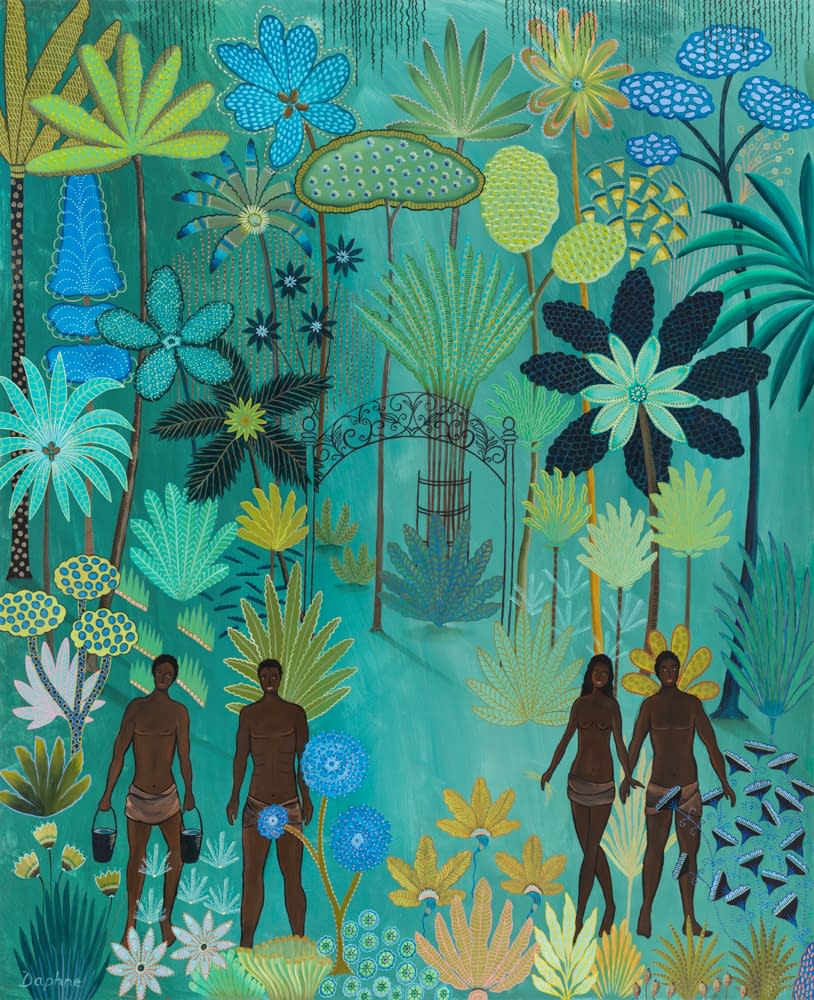 5ft x 6ft Unframed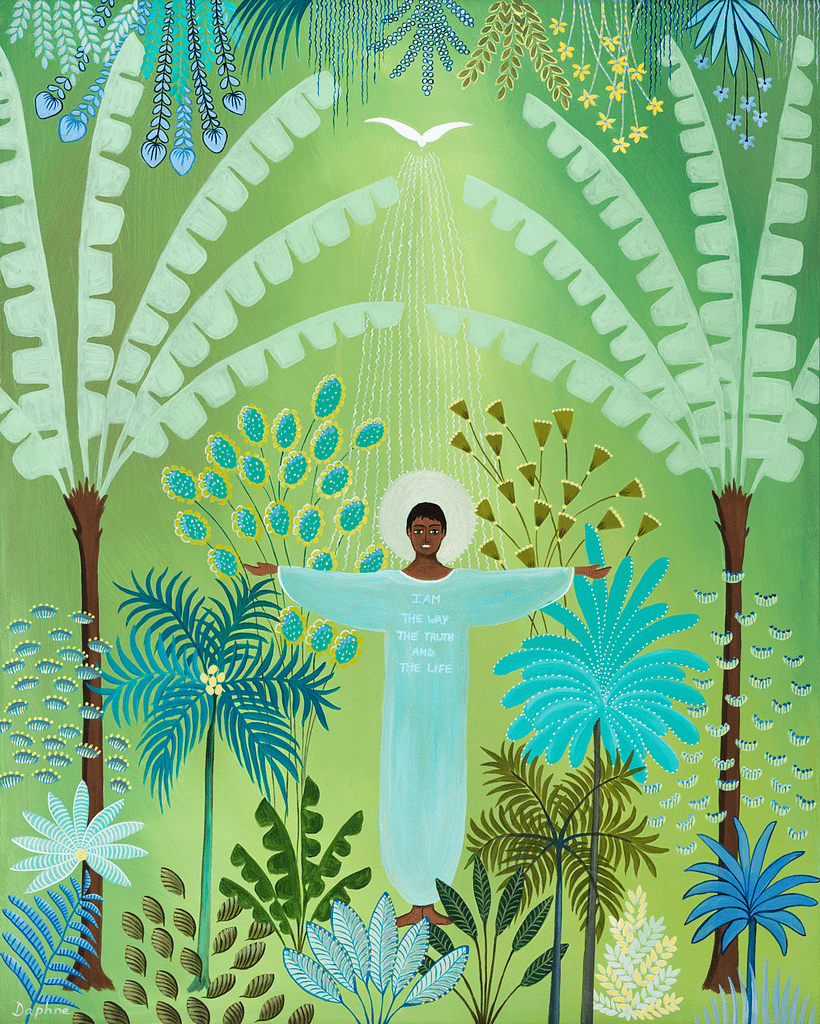 31" x 39" Framed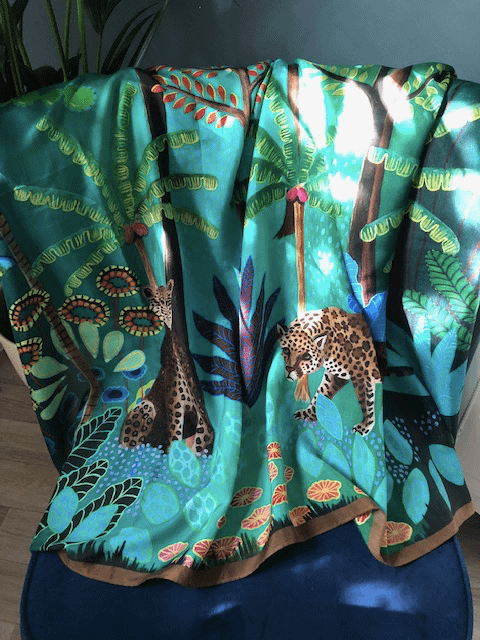 The Brand New Creation of Unique Flamboyant Silk Limited Edition Scarves by Daphne Stephenson Leopards in the Jungle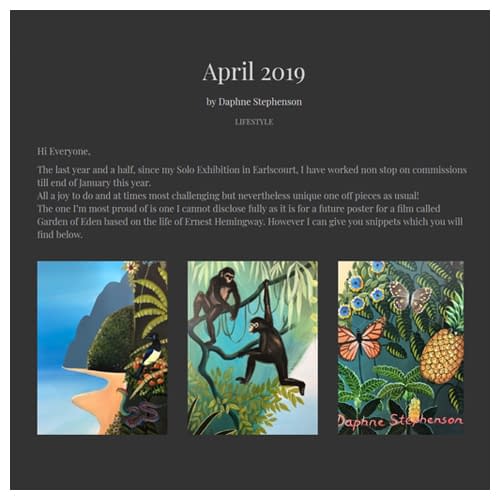 Hi Everyone!
The last year and a half, since my Solo Exhibition in Earlscourt, I have worked non stop on commissions till end of January this year.
All a joy to do and at times most challenging but nevertheless unique one off pieces as usual!
The one I'm most proud of is one I cannot disclose fully as it is for a future poster for a film called Garden of Eden based on the life of Ernest Hemingway. However I can give you snippets which you will find by clicking here: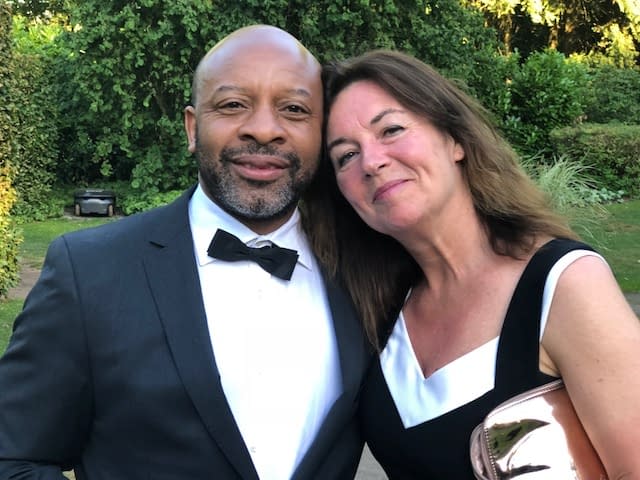 2017 was a monumental year! I got married in July to my fabulous soulmate Algie who I had got to know over a period of three years before we went up the Isle! We actually met in the church we still attend St Augustines in South Kensington and got married there.
I then had the largest one woman Exhibition I have ever had in Earlscourt in October. 2 years of work and it was amazing!
Sold lots more paintings and officially launched Daphne Lorenzo Lamps. These are all one off very quirky unusual Lamp made with lost and found objects and vintage collectibles. I design theatrical opulent lampshades to match. They went down a storm. See the video (right) of the evening if you have 5 mins.
Since the Exhibition, I have been working on various commissions. 
One went to Singapore, one went to Lebanon and another to Dubai. All for one lovely client.
 I also did an Indonesian Wedding for another client and friend.
Recently I have been fortunate to work on a commission for a Poster of a Film, based on one of Ernest Hemingways books, which I hope to have finished at the end of August. It is huge! Lots of exotic foliage, fruit, vegetation and the sea amongst other things. All the things I love to paint!
Then, I will be concentrating on smaller paintings  to exhibit at the November Wimbledon Art Studios annual Exhibition along with some new lamps.
Feel very blessed!
Love 
Daphne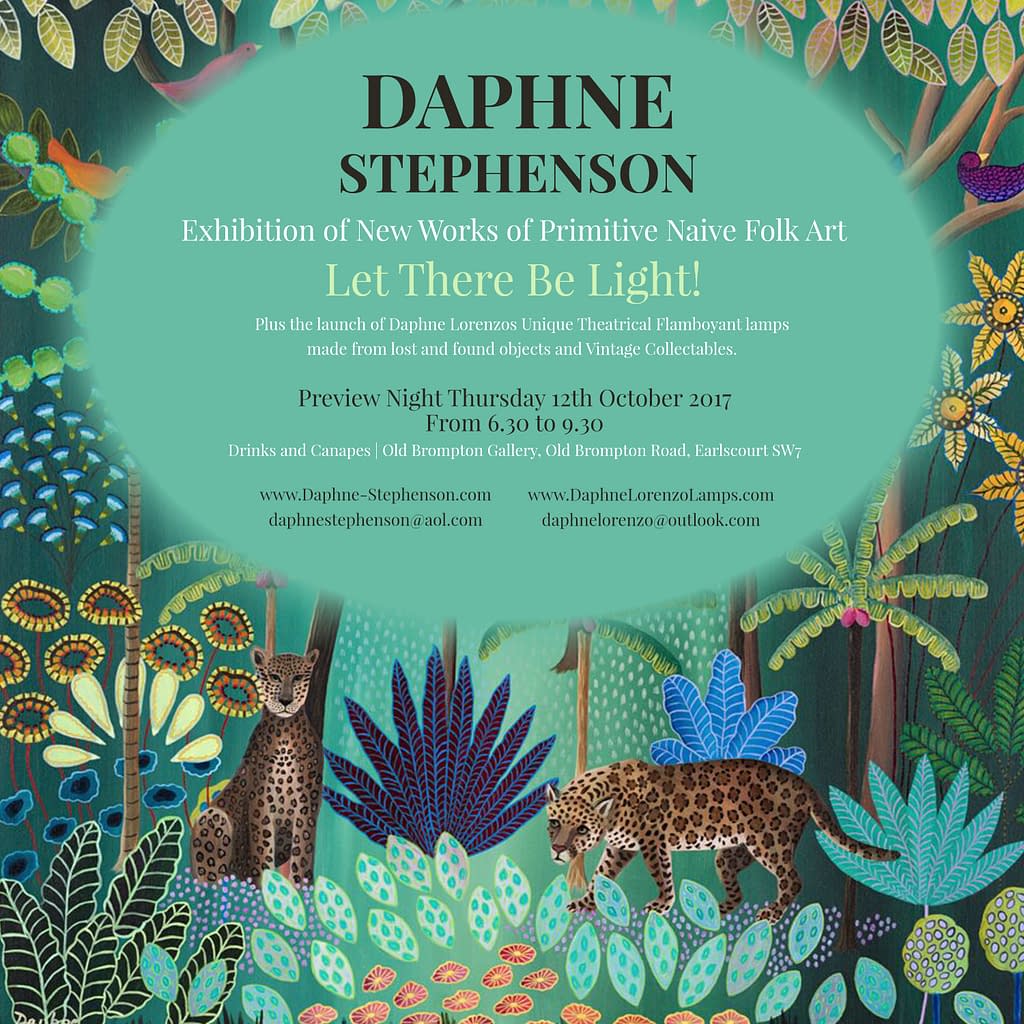 Hi Everyone
Following on from my successful exhibition in Earlscourt October 2017 which you can view under film footage, I have had numerous commissions and it's been a joy to know that one has gone to Lebanon, another to Dubai, another to Singapore and at present I have been working on an Indonesian Wedding scene. My next commission is for a Film which will encompass all my tropical jungle style of work which I love and can't wait to get into.
So… watch this space!!
Love
Daphne